AUTHORISED REPRESENTATIVE SERVICES LITHUANIA
Compliant AR Services in Lithuania
We offer compliant, affordable solutions for businesses looking to import goods into our region but who do not have a direct presence; through NH Logistics NED you can import your products and provide after sales support service to your clients in Lithuania.
Advantages of choosing NH Logistics NED as an Authorised Representative
The Regulation makes it illegal to place certain products on the EU market unless a responsible EU-based economic operator is established. Manufacturers that currently sell, or offer to sell, directly to end users (both professional and consumer) in the EU, without an EU-based economic operator being involved, must appoint one before placing further products on the EU market.
Many companies take weeks before they can act as your Authorised Representative. NH Logistics can become your legal representative in just 24 hours.
Our company works as Authorised Representative, acting as a legal entity representing non-European Union manufacturers, exporters and e-commerce stores. We ensure your company complies with all relevant requirements enforced by the European Union so you can do your business easily anywhere in the EU.
THE SERVICES WE PROVIDE IN LITHUANIA
Provide an EU contact address for the product, packaging, and documentation.
Confirm that you have completed required assessments, certifications and registrations.
Review your technical documentation to make sure it meets requirements.
Verify that product labeling (CE marking) and traceability references are correct.
Hold technical documentation and declaration of conformity on your behalf as required.
Work with surveillance authorities on your behalf, providing documentation on request and reporting compliance incidents to you.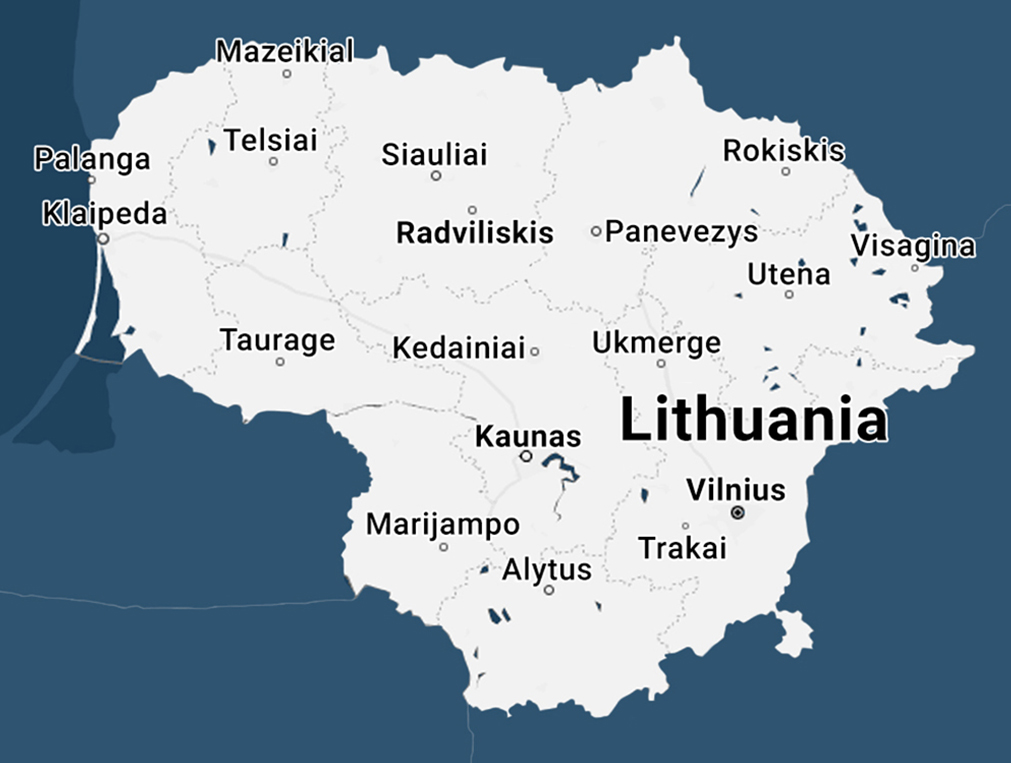 | | |
| --- | --- |
| Capital | Vilnius |
| Offical Language | Lithuanian |
| Population | 2,8 million |
| Area | 65,300 km2 |
| Currency | Euro EUR |
| Government | Unitary Semi-Presidential Republic |
Vilnius has a population of 0,6 million people and is the biggest city in Lithuania.
Vilnius houses the Lithuanian National Philharmonic Society Building, Vilnius Town Hall and Gediminas' Tower.
NH Logistics NED has its office in Venlo, a city where many logistics companies are active, right on the Dutch/German border.
| | |
| --- | --- |
| Nominal GDP | 56 billion USD |
| Main Export Products | Refined Petroleum, Furniture, Rolled Tobacco, Wheat |
| Main Import Products | Crude Petroleum, Cars, Packaged Medicaments, Electricity |
| Main Trading Partners | Germany, Latvia, Estonia, Russia, Poland |
Our highly qualified team is ready to assist you, ensuring that your business in Lithuania can be successful too!
Holidays in Lithuania 2023
JAN
01
New Year's Day
FEB
16
Restoration of the State Day
MAR
11
Restoration of Independence Day
APR
09
Easter Sunday
APR
10
Easter Monday
MAY
01
Labour Day
MAY
07
Mother's Day
JUN
04
Father's Day
JUN
24
St John's Day/ Day of Dew
JUL
06
King Mindaugas' Coronation Day
AUG
15
Feast of the Assumption of Mary
NOV
01
All Saints' Day
NOV
02
All Souls' Day
DEC
24
Christmas Eve
DEC
25
Christmas Day
DEC
26
Second Day of Christmas