DDP – Delivered Duty Paid
What is DDP?
This term means that the seller assumes all the risks and costs of transport (export fees, carriage, insurance and the destination port charges, delivery to the final destination) and pays any import customs/duty. The buyer has only to unload the goods at the final destination.
DDP Delivery is becoming more and more popular in Eurasia as Customs procedures are not becoming easier and more and more clients do not want to import by themselves anymore and oblige their suppliers to find solutions for them. DDP incoterms therefore become very popular and more and more clients chose for this incoterm.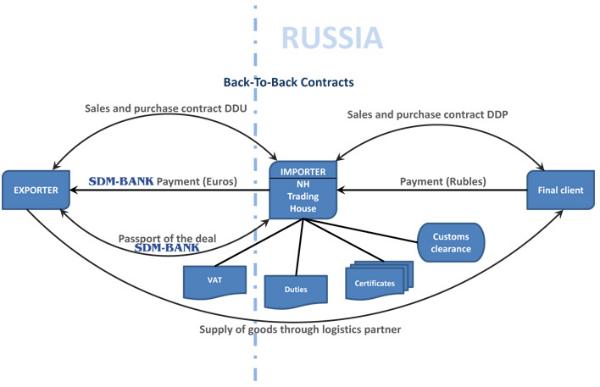 Often, when incoterm DDP is used, these suppliers turn to their logistics providers for a solution. NH Logistics offers tailormade solutions for each Client. NH Logistics has been dealing with such shipments since 2001 and has developed reliable systems for importing such cargo through our Trading Houses.
In such cases, one of our companies acts as the Importer of Record IOR or in case of export our company will be the Exporter of Record EOR. NH Logistics assists you with the calculation of the  price in advance, which traditional logistics companies cannot or do not want to do. Our companies offer fully transparent IOR Importer of Record services.
IOR services and EOR services form a substantial part of our portfolio of services.
With these IOR logistics services we assist our clients worldwide exporting goods to Russia and/or to other Eurasian countries.
The website of Russian Customs is a useful resource: www.eng.customs.ru
Please sent your requests to: info@nh-logistics.com
Some reasons why you should work with us:
Active in Eurasia and the CIS since 2001
We speak your language, Russian, English, German, Dutch
Own entities in Russia, Belarus, Ukraine, Azerbaijan, Kazakhstan, Uzbekistan, Moldova, Armenia, Georgia, Serbia
Our specialists understand very well requirements and the international production standards
We will help you to obtain all other permissions / approvals required
Our staff is flexible and customer-oriented
NH Logistics will consult you and offer you the best solution according to your needs
We will provide you with all necessary assistance and support through our Russian and Eurasian offices
Our staff is friendly and will help you to solve your challenges with pleasure!
☑ Active in Russia & CIS since 2001.
☑ Entities in 10 Eurasian countries.
☑ One-stop source.
☑ Since 2001 our success rate is 100%.
We are trusted by international companies since 2001
Please describe in detail the service you want to apply for. We are here to support you!
You can place an inquiry through info@nh-logistics.com to receive an initial consultation.